Mojo, aka Make Your Own Jewelry, Featured in Martha Stewart Living Magazine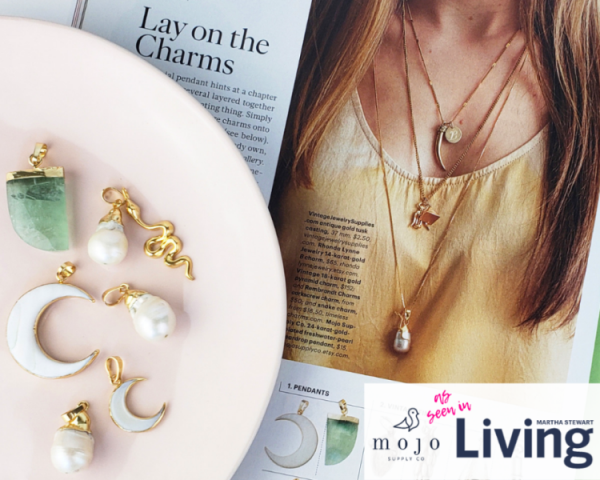 Mojo, aka Make Your Own Jewelry, opened its doors in 2019. Their new website and Etsy shop carries the same fashion jewelry pieces as mall stores so customers can DIY jewelry—without the hefty price tag. Within a few months of its' launch, the company has sold thousands of products all over the world and has a 5-star review rating.
Most recently, Martha Stewart Living Magazine featured Mojo in their DIY Style segment. The designer charm necklaces shown can be made in seconds for a fraction of what they'd cost at department stores. The company has 60-second tutorials on Instagram @mojosupplyco, and a YouTube channel, showing how to DIY those necklaces and many other high-end pieces. The store has over 500 products—from charms, chains, and bracelets to earring components—that can all be put together easily. Even for people who have never made jewelry before.
Customers are raving about Mojo because they can now afford to transform their wardrobes with classy jewelry and make luxe gifts for friends. The company has helped brides make gifts for their bridesmaids. They've helped friends make crystal healing jewelry for loved ones. They've put together DIY kits for parties. And they are constantly assisting jewelry makers in selecting designer pieces for their stores.
The 5-star feedback includes, "Beautiful! These coins are so well made and feel higher quality than many out there in the market." One customer said, "I've lost count of how many times I've bought pieces from Mojo, definitely my favorite shop ever," while another says, "In love with my purchase! Fast shipping, nice packaging, amazing price! Thank you!"
The Etsy shop Mojo offers hundreds of pendants, earrings, necklaces, and bracelets. Customers can also find jewelry making tools, a curated vintage collection, and other things like clasps to make their own jewelry at home. The freshwater pearl pendant with 24K gold plating and moon charm made from shell were some of those featured in the Marth Stewart Living Magazine. The company also has several products with Bestseller tags on Etsy including their 17-style gold coin pendant collection, celestial charm collection, natural shell collection, heart lockets, and beaded earrings. They also have gold filled necklaces and chain by the foot that are designated Bestsellers. Their newest additions include pure crystal perfume bottle pendants and knotted natural stone necklaces.
The founder, who calls herself the "Mojo Mama," is excited to see the response from the customers around the world. After having a long career in high tech, she followed her heart and started Mojo because she saw an opportunity to create a DIY company unlike anything else on the market. Being a part of customer's creations has started an incredibly meaningful journey for the Mojo team.
See all the products on Mojo's Etsy shop.
Media Contact
Company Name: Mojo Supply Co
Contact Person: Brandie Claborn, Founder
Email: Send Email
Country: United States
Website: www.themojosupplyco.com