Teatulia Organic Teas is now offered Nationwide Through Mr. Checkout's Direct Store Delivery Distributors.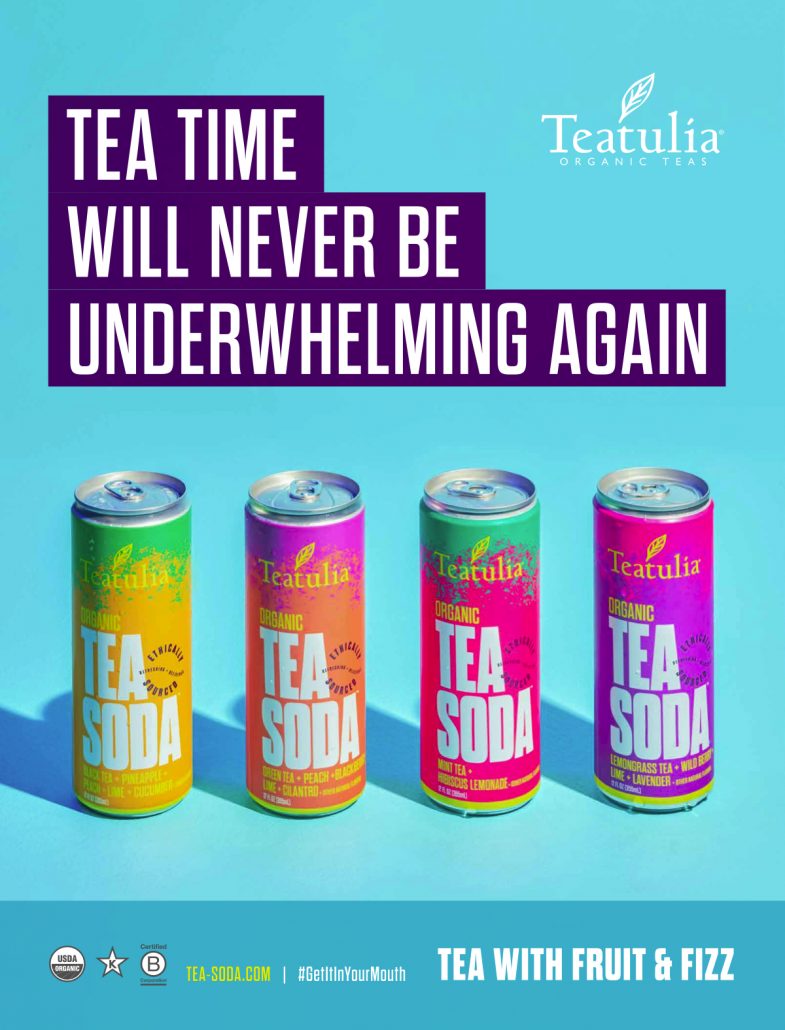 "There is no controversy: American consumers are abandoning traditional carbonated soft drinks and legacy Ready-To-Drink (RTD) teas for healthier alternatives. Put simply, we're drinking more tea! Our new Organic Tea Sodas™ bring so much more to the plate with their bold flavors, low sugar, light carbonation, and beautifully designed sleek cans."
Linda Appel Lipsius
Co-Founder
Tea Soda's are and amazing blend of tea with fruit & fizz. These cans also happily are an all organic, low sugar option, great for any meal!
It all started with the garden. Teatulia's garden-to-cup teas from Bangladesh are not only refreshing and delicious, but they also do good…for the land, for the people, and for the environment. The garden direct, sustainably grown teas hail from Teatulia's very own 3,000-acre regenerative tea garden in the Tetulia region of Northern Bangladesh and our Alliance of Sustainable Gardens throughout the world. The establishment of Teatulia's tea garden created a new tea-growing region in the country, nestled between Assam and Darjeeling at the base of the Himalayas. Its tea garden is the first and only business in Bangladesh to be Organic and Rainforest Alliance Certified. Teatulia Teas are always 100% Organic, Rainforest Alliance, and Kosher Certified. Teatulia is also proud to be a certified B-Corp!
Where and how your tea is cultivated makes all the difference in its taste and quality, as well as its impact on the planet and its people. Teatulia is known for doing things differently so we began our mission to "wake up tea" in the best way we know possible, introducing our new line of ready to drink Tea Sodas to our already awesome lineup of hot and iced teas.
Our handcrafted Organic Tea Sodas started as a customer favorite at our Denver Tea Bar in 2012. Developed to be a refreshing, accessible alternative to regular, hot, or iced teas, they quickly became fan favorites. Tea Sodas are delicious and refreshing with bold and beautiful tea notes, distinctive fruits and herbs, lightly sweetened with organic fair trade cane sugar, and just the right amount of fizz.
Teatulia's Organic Tea Sodas come in 4 refreshing and delicious flavor varieties that provide something that appeals to everyone. The bright and colorful cans showcase the distinctive layered flavor combinations:
• Organic Green Tea Soda: Green Tea, peach, blackberry, lime and cilantro. Caffeinated
• Organic Black Tea Soda: Black Tea, pineapple, peach, lime and cucumber. Caffeinated
• Organic Lemongrass Tea Soda: Lemongrass Tea, wild berry, lime and lavender. Naturally Caffeine Free
• Organic Mint Tea Soda: Mint Tea and hibiscus lemonade. Naturally Caffeine Free
Tea Sodas will be your new go-to for clean, delicious refreshment! #GetItInYourMouth
Media Contact
Company Name: Teatulia Organic Teas
Contact Person: Molly Waller
Email: Send Email
Phone: 303-433-2980 Ext 309
Country: United States
Website: https://mrcheckout.net/teatulia-organic-tea/