Cannatera Launches New Site in Conjunction with Announcing a New Face Mask and Luxury Skin Care Line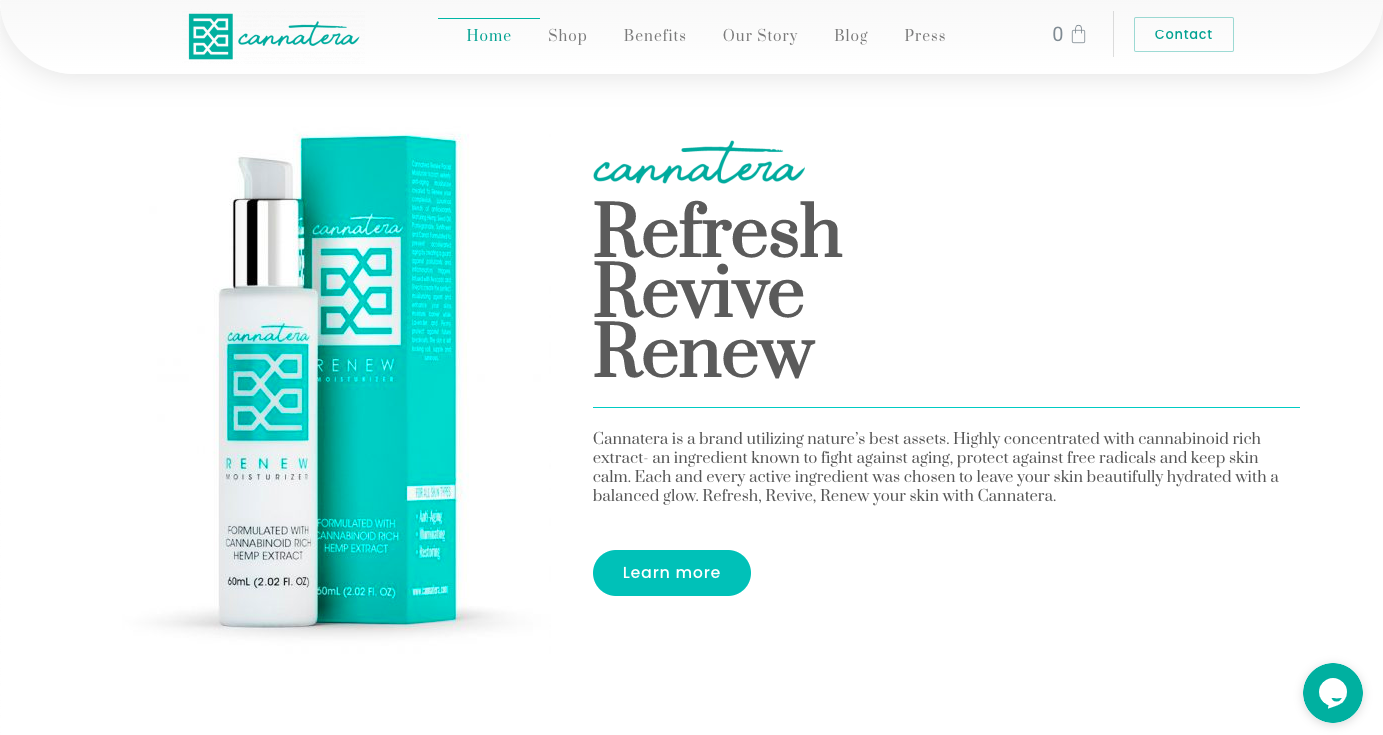 Cannatera, an innovative brand leveraging the power of natural ingredients to create effective anti-aging formulas for skincare has recently launched a new website highlighting its expanding product line.
Website Launch
As a forward-thinking brand focused on providing a superior customer experience, Cannatera has invested in a new website design and rebuilt aimed at providing more value to their customers.
Located at (https://cannatera.com), the new website melds impressive design with elements tailored to improve the user experience with every click.
The site features updated product categories, sortable by type, need, ingredients, benefits or condition. Each product page clearly provides key information such as ingredients, clinical research and more to help visitors find the perfect solution for their needs.
Key Features of the New Site:
Industry-standard security for online purchases
Fine-tuned performance for ease of browsing
Enhanced interface and layout
Updated and readily accessible product information
Improved communication channels for pre and post-sales support and service

Luxury Skin Care Line
Regardless of age, gender, or skin type, skincare is a key component of health and reducing the signs of aging. Skincare products is an evolving category, with innovative discoveries and clinical research continually revealing new and exciting ingredients and approaches to anti-aging and skin health.
Cannatera is known for its ability to leverage the power of high-quality natural botanicals and ingredients to improve protect the skin from the signs of aging and damage caused by environmental factors.
It's recently launched luxury skincare line was uniquely engineered to help customers look and feel their best, bringing together clinically proven all-natural ingredients to create a complete skincare system.
Benefits of the Skin Care Line
Revitalizing formula
Powerful antioxidants fight back against free radicals
Reduces inflammation from damage and irritants
The powerful serum penetrates deep to enhance complexion
Reduces fine lines and wrinkles
Nourishes and hydrates the skin

Natural Ingredients Backed by Science
Hyaluronic Acid: Enhances moisture andrevitalizes the outer layers of the skin, increasing plumpness, fullness, and vibrance.
Cannabidiol: Powerful antioxidant protecting the skin from UV damage, inflammation, and free radicals. This results in a rejuvenated, youthful appearance.
Shea Butter: Naturally high in fatty acids and vitamins, shea butter is an impressive moisturizing agent that nourishes and protects the skin.
Bromelain: A pineapple protein extract, bromelain breaks down dead skin cells revealing a softer more luscious layer below.
Resveratrol: A powerful anti-aging compound, resveratrol can protect against oxidative stress and surface damage.
Avocado Oil: High in Vitamin E and lecithin, this nourishing oil reduces inflammation while hydrating the skin and delivering nutrients to deeper layers.
Apple Fruit Extract: Rich in Alpha Hydroxy Acids to combat acne, blemishes and smoothen the skin.
Pomegranate Extract: Rich in vitamins and minerals necessary for healthy skin, repair and combating the signs of aging.
Carrot Root Extract: High in beta carotene, an essential acid with known regenerative properties.
Lavender Oil: Fights acne and blemishes while having a calming effect on the skin
Orange Oil: Promotes skin softness
Peony Root Extract: Enhances skin clarity with natural anti-inflammatory, anti-aging and antiseptic properties.
*A full list of ingredients in the skincare line can be found on their official website.
Rejuvenating Face Masks
Another exciting addition to Cannatera's product line is the introduction of a new rejuvenating face mask. Staying true to character, the mask is made from all-natural botanicals and clinically proven natural ingredients aimed at rejuvenating, moisturizing and beautifying the skin. Those looking to turn back the clock on aging and reveal a youthful glow will find these masks an excellent addition to their daily regimen.
About Cannatera
Headquartered in California, Canantera is a leading skincare company specializing in combining CBD and natural ingredients to produce innovative products to improve skin health and combat the signs of aging.
Their product line is focused on clean, natural, potent and clinically backed natural ingredients.
Those interested in learning more about their new product lines or in contacting the company are encouraged to reach out via the media contact information below or through their official website.
Media Contact
Company Name: Cannatera
Contact Person: Jess Smith
Email: Send Email
Phone: (833) 901-7333
Address:1235 E Francis St.
City: Ontario
State: California 91761
Country: United States
Website: https://cannatera.com