Red White & Wasted film spotlights mudding enthusiasts in Orlando, Florida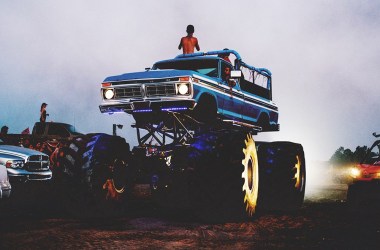 Film set for release September 11 in virtual theaters
An unapologetic look at race, class and polarized opinions manifest themselves in unexpected and very messy ways in director Andrei Bowden-Schwartz and Sam B. Jones' Red White & Wasted, coming this September from Dark Star Pictures.
Red White & Wasted follows a family of mudding enthusiasts as the last mudhole in Orlando, Florida goes up in flames and they are forced to reconsider their way of life in a city that doesn't have room for them anymore.
Reviews for the film have been outstanding with Film Inquiry calling it "a vital documentary", and Film Pulse calling it "gripping".
Mudding: it's just something people do in Florida. You get your friends, your beer, and your truck, and you drive through the mud until you can't see the paint. If you know where to look, you can find people mudding everywhere in Florida – even right behind SeaWorld. Swamp Ghost is the last real mudhole in Orlando, and that's where we meet "Video Pat." Pat has devoted his life to filming trucks at the mudhole and practically raised his daughters Krista and Jessi out there. But when Swamp Ghost goes up in flames, Pat loses everything. There's nowhere left to go.
As Pat deals with the fallout, we – and Pat – begin to understand that Swamp Ghost had a dark side, and his obsession with mudding has had a profound affect on his family. Krista's unplanned pregnancy and Jessi's drug and health issues threaten the fragile family unit as they try to get back into the mud. They're not alone in that goal – available land is disappearing all across Florida, so mudders flock to the Redneck Yacht Club: a huge event that attracts tens of thousands to a weekend long "redneck Mardi Gras." Unable to find a new mudhole in Orlando, Pat leaves the family behind and heads south to RYC.
After his initial excitement, Pat begins to find the new paradigm of mudding a shocking contrast to the backwoods community he knew at Swamp Ghost. RYC is expensive, dangerous, misogynist, racist, and politically charged. It's a drunken dystopia of white male "freedom": freedom from laws, from responsibility, and from "the other." Pat finds it overwhelming and alienating. Back in Orlando, he is finally able to accept that his heyday is over and discard his identity as "Video Pat." He turns his focus away from mudding and towards taking care of his daughters and Krista's new baby. "Country folks can survive," Pat tells us, even if things can never go back to the way they were. Pat's hopes are kept alive by the idea the baby will "carry on the heritage" of mudding – though perhaps that's not such a good thing.
Featuring an original score from The Blair Brothers (Green Room, Blue Ruin), Red White & Wasted debuted to widespread critical praise when it debuted at Tribeca.
Red White & Wasted premieres in select theaters September 11 and will be available On Demand September 22.
Video Link: https://www.youtube.com/embed/0fgxnSHYFvc
Media Contact
Company Name: OCTOBER COAST PR
Contact Person: Samantha Kristy
Email: Send Email
Phone: 0011 +61 3 99996034 ext. 314
City: SUNNYVALE
State: CA
Country: United States
Website: https://screenanarchy.com/2020/08/red-white-wasted-trailer-florida-mudders-against-change.html