Gecko Musical Instruments And Yang Po Qiangqiang Jointly Launched Immortal Co-Branded Series: K17gy Kalimba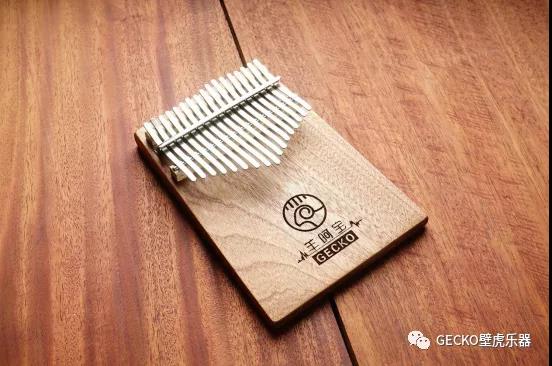 How beautiful is a little sister who can play the Kalimba? See the sheep a treasure, song Small than three stay mu teacher and so on know! Not to mention the cool Fried street, but the bow of gentleness and performance skills also let many people amazing.
Simple playing skills, ethereal and pleasant sound quality, small and lovely appearance, as a small number of Musical Instruments with healing properties, the thumb harp not only has the appearance of the level of endurance, strength both, not only won the pursuit and love of many music lovers, but also can set off the current hurricane.
In recent years, a variety of thumb guitars have been emerging in an endless number of years, and the eyes are mixed with pearls. In order to find a really good thumb guitars that can keep people awake at night, it is always one in a million.
However, this time, Djao Musical Instruments, which is specialized in manufacturing thumb guitars, has joined hands with Sheep Po, one of the pioneers in promoting thumb guitars and carimba qin in China, to create a series of immortal joint thumb guitars, K17GY, which is officially released for sale.This co-branded series of thumb guitars not only gives consideration to the excellent product performance and the cute appearance of high appearance level, but also fully meets the playing needs of thumb guitars lovers, making music playing become "unique".
Why say thumb harp K17GY is an immortal co-branded series?
1. Make it with the best quality in yan Yi
As is known to all, As a professional thumb harp manufacturer, gecko Musical Instruments has its own unique research and innovation in the production of thumb harp. Therefore, this time the K17GY thumb harp is a joint venture between Jagao and Yang Po, which is more refined on the basis of the original manufacturing of the thumb harp. For example, its choice of wood is also very rigorous.
K17GY kalimba is a sincere co-signed instrument. The wood used is rare and classy mahogany, which usually takes more than 50 years to make. The cut surface is smooth, the wood is dense, the texture is delicate, the pattern is exquisite, and the color is brighter and more beautiful when polished. And its feel is also warm, smooth, let a person fondle admiringly.
In addition, its pure and full tone quality and bright and crisp tone color are polished through the strict piano making process, which more meet the needs of music fans
2. Surprise and interesting details
Good products sometimes win not because of "overblown design," but because of "intriguing details." This joint K17GY kalimba is the best proof of it.
K17GY kalimba in adhering to the GECKO thumb on the basis of the original design concept, and through a simple circular logo logo, sheep Po and GECKO, seems fairly, without a bit exaggerated, but this small details, give a person a kind of "contracted but not simple" feeling, also highlighted that the attitude of the thumb and brand culture.
3. Visible brand characteristics
Besides the elegance and beauty of the instruments that fans are most likely to pay for, another factor may be the brand quality of the product.
In the thumb-harp world, such signatures are few and far between.
GECKO musical instrument as the first domestic specialized production only tiny instrument manufacturers, has always insisted on "diligently for the customer to build high quality products and provide perfect after-sales service" concept, and the sheep Po as jie high musical instrument, GECKO kalimba jean's face, this time the thumb K17GY harp is jie high instrument with sheep Po once again the depth of cooperation, not only the thumb GECKO brand jean quality and more reliable quality, also promoted the development of the thumb jean in China, for more music lovers to see this one musical instrument.
Both of them use simple design to combine the two brand elements after simplification to produce local impact and collision.The visual conflict of details perfectly matches the overall design background of the theme.
In addition, K17GY thumb piano has GECKO and Yang Abao, two heavyweight brand representatives in the world of thumb piano, and USES simple design to combine the two brand elements after being simplified together to produce local impact and collision.The visual conflict of details perfectly matches the overall design background of the theme.
As a sincere co-branded series, you can buy the fusion body of two representatives of the heart water with only one payment. K17GY kalimba is absolutely excellent quality and reasonable price, nice to look at!
Media Contact
Company Name: GECKO MUSICAL INSTRUMENT CO., LTD
Contact Person: Media Relations
Email: Send Email
Phone: +86 0752-3199063
Country: China
Website: https://www.gecko-kalimba.com/