Interview with Munich/Lisbon based multifaceted artist Jesse Jaxx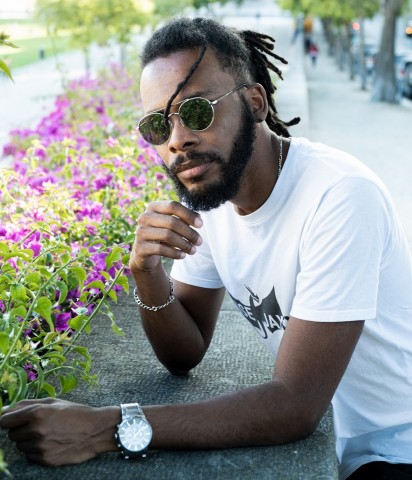 Born in Halle, Germany, Jesse S. Francisco AKA Jesse Jaxx is a multifaceted artist who is a rapper, singer, songwriter, producer and artist coach. Jesse has always found his escape in music, especially while growing up and dealing with a difficult childhood. But it was when he moved to Munich, that he discovered his true path towards music. He met recording artists who helped him record his first-ever song.
With newfound confidence that he gained after honing his craft for 10 long years, he released three mixtapes, various singles, one group album, and 2 EPs. He ultimately received the recognition that he deserved. He won numerous awards and got featured in various European and American radio shows and magazines.
The live performances and videos by Jesse are the most distinctive features about him. He paints his face, along with supporting his apparel with a dragon chain, which he says, means "I go with wisdom, strength and a mysteriously free spirit".
Interviewer: What first got you into music?
Jesse Jaxx: Well, The fascination and the love for it I guess. When I was 8 I knew this is what I wanna do but only until I was 16, when I was talking about my passion for it, was when the opportunity to actually make music was given to me
Interviewer: What kind of a music artist would you describe yourself as?
Jesse Jaxx: The kind of artist that values important messages over irrelevant songs. An artist that is always hungry to aim higher, you know
Interviewer: What is your creative process like?
Jesse Jaxx: Usually it starts with being inspired by the beat but sometimes I have a certain idea in my had. For example with "Black & Proud". I knew exactly where I wanna go with that song before I even wrote a single word. I had the hook in my head and gave my producer a reference and said "Look, there is something I need to do and this is the type of spirit that I wanna deliver. What do you think about it, can you do it?" And he delivered exactly what I needed. By that time I was in a train and heard the beat for the first time. I couldn't help myself and almost wrote the whole song on my phone. When I was back in my home studio, I immediately recorded the full song and couldn't believe what I created there. It was a very emotional moment!
Interviewer: What is the story behind your video "Black & Proud"?
Jesse Jaxx: It's about all the pain and oppression that i have witnessed the past 29 years in my own life as an afro german and from the lives of others. If you see what's going on in the world and watch brothers and sisters that look like you getting killed, or when you see people having a hard life because they are different then others, then I just can't believe that all of this is really happening. I felt like I had to speak up now. Im speaking about my sexuality, I'm speaking about my point of view of being black. In this video we wanted to show everybody that this is important and that we are with these people because we need to spread this out. This is in fact not a trend, this is real life! With this video we demand tolerance! We demand equality! We demand understanding! We demand to be treated like everybody else!
Interviewer: Tell us about your upcoming projects?
Jesse Jaxx: Oh I got a 3 song project coming up next and after that I got a big surprise! 🙂
Interviewer: What message would you like to give to our readers?
Jesse Jaxx: Believe in yourself and never give up. What you think you become.
Media Contact
Company Name: DragonSoul Entertainment
Contact Person: Jesse Jaxx
Email: Send Email
Country: Germany
Website: dragonsoul-ent.com