Analysis from Organizational Behavior Grad student shows that executives should negotiate and resolve conflicts of interest through collaboration, compromising, and accommodating.
Jacob Khan advises that managers and leaders should strategically create win/win situations in all business dealings because counter-parties should feel that they were treated fairly.
According to Jacob Khan, "Executives and leaders fail to understand the long term value of win/win situations because they don't do extensive scenario analysis. These individuals fail to understand the perspective of the other party," says Jacob Khan.
As suggested by the trends, failure to manage conflict can be costly, especially by transformative companies. Some companies are trying to be revolutionary such as Telsa and Pategolna that underestimate that they may underestimate legacy companies' importance.
Business professionals interesting in reading more about Jacob Khan's analysis can access his paper on his Harvard Scholarly, Harvard Blogs, and Slideshare.
Slide Share
Community Blog: http://blogs.harvard.edu/jacobkhan/2020/12/20/organizational-behavior-conflict-management-negotiation-exploring-the-ticketmaster-and-pearjam-case/
Website: https://scholar.harvard.edu/jacob/blog/organizational-behavior-conflict-management-negotiation-exploring-ticketmaster-and
About Jacob Khan
Jacob Khan is a graduate student at Harvard University studying Management and leadership. Jacob is a student member of the Harvard Business School Association of Boston and the Harvard Alumni Entrepreneurs. Jacob has an interest in leadership and Management. During the regular semester, Jacob Khan works as an Equity Research Analyst at Harvard Business School for an MBA Professor of Finance. Last semester Jacob was a Senior Investment Research Analyst at the Harvard Financial Analyst Club.
Jacob Khan completed the JPMorgan Chase investment banking virtual experience, Citi Investment banking, APAC Virtual Experience, and Goldman Sachs Engineering virtual experience in 2020.
Jacob Khan's infographic resume: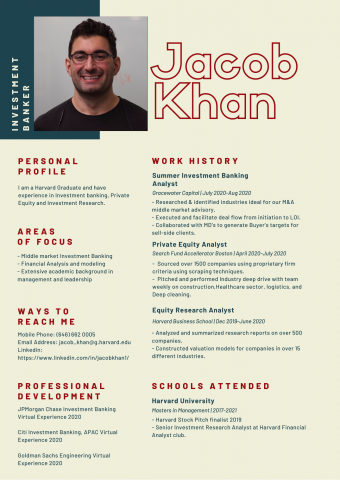 Follow Jacob on Instagram & Twitter:
https://www.instagram.com/theivyjake/
For more information, visit: https://about.me/jacobkhan/
About Slickster PR & Marketing:
Slickster PR & Marketing is a boutique communications organization located in Harvard Square. We offer services in Marketing, strategic consulting, advisory, and public relations.
For more information, please visit www.slickster.us
Media Contact
Company Name: Slickster PR & Marketing
Contact Person: Elana Khoury
Email: Send Email
Phone: 617-744-9587
Country: United States
Website: www.slickster.us