Medterra CBD is now offered Nationwide Through Mr. Checkout's Direct Store Delivery Distributors.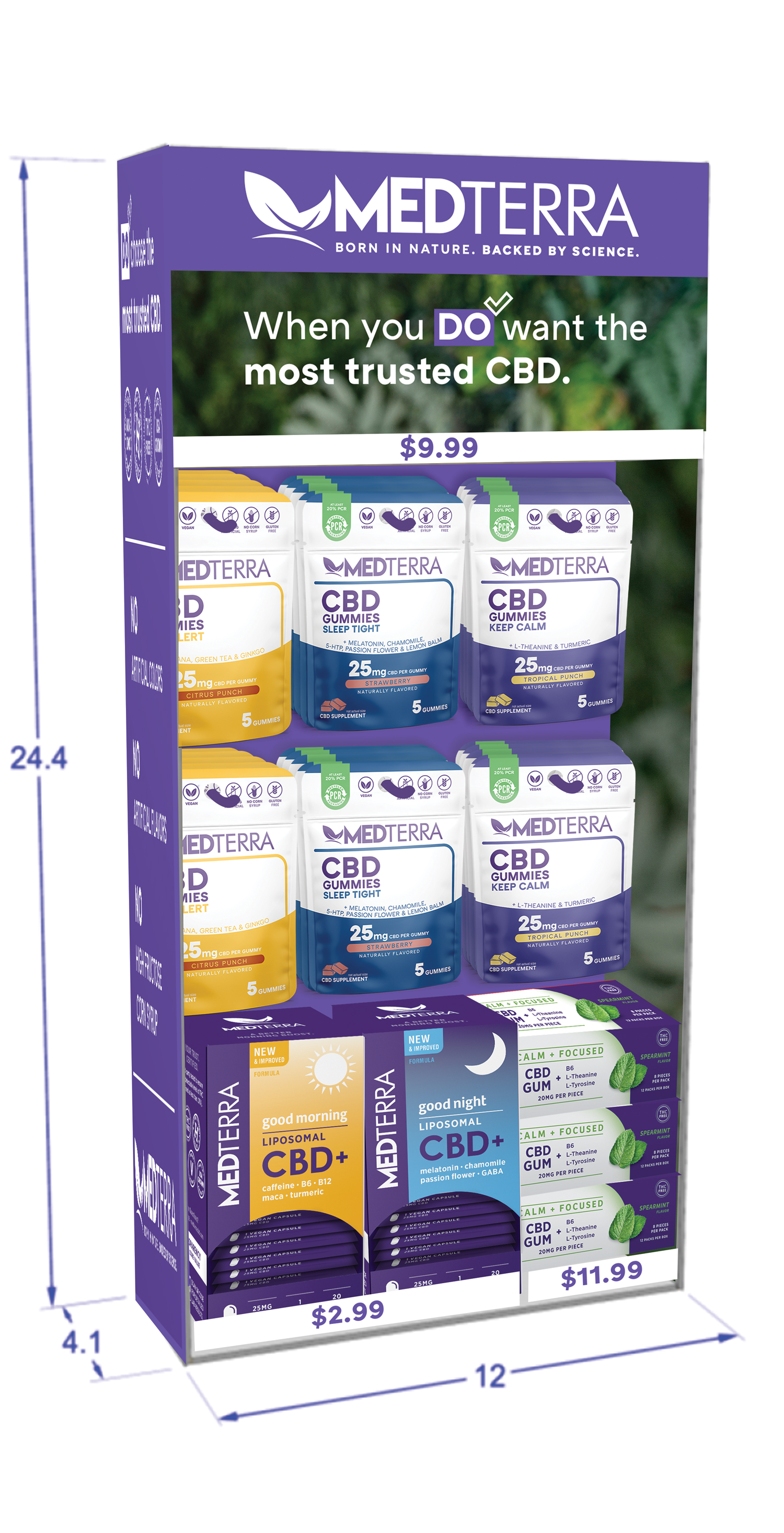 Medterra's Best Selling Products Are Now Available for 1,470+ Independent Convenience Stores to Sell
Founded in 2017, Medterra has quickly grown to become the leading global wellness brands in the industry. The Brightfield Group recognized Medterra as the number two CBD company in the U.S. Medterra's CBD is extracted from industrial hemp grown in accordance with the strict guidelines of the Kentucky Department of Agriculture's Hemp Pilot Research Program. Each product is third-party tested to ensure consistency and quality.
IRVINE, CA – May 25, 2021 – Medterra, the most trusted brand and widely distributed leader in CBD industry, announces that Mr. Checkout will expand its product offerings to include CBD, a first for the network of independent distributors company. Starting May 2021, the partnership will focus around the brand's six most popular products in sample sizes with an emphasis on CBD education through the CBDo's and CBDont's campaign.
"Research shows there's a growing interest in CBD but a lack of education and understanding about the benefits of CBD," says Natasha Cuda, SVP of Sales at Medterra. "Medterra has created a turnkey activation with a countertop display that answers the most asked questions about CBD and invites consumers who are curious about CBD can try the brand at an affordable price point."
The To Go display includes:
• CBD Gummies Keep Calm (5ct for $9.99): Thanks to the power of natural ingredients like L-Theanine, these Calm Gummies combine 25mg of CBD with 50mg of L-Theanine, an amino acid that research indicates promotes a natural sense of relaxation and calm without drowsiness.
• CBD Gummies Stay Alert (5ct for $9.99): For a boost in the morning or to beat the afternoon slump, 25mg of CBD, green tea and gingko biloba will energize both the body and mind without giving you the jitters. Clean, edible energy, whenever you need it.
• CBD Gummies Sleep Tight ($9.99): Flavored with natural strawberry extract, these Sleep Tight Gummies promote a restful night's sleep and a deep sense of relaxation.
• Good Morning Capsules (single serve for $2.99): Power up your morning with Medterra's unique liposomal CBD+ capsules. Made with an energizing mix of turmeric, ginger, ashwagandha, and maca, these Liposomal CBD+ Good Morning are easy to digest.
• Good Night Capsules (single serve for $2.99): Set the scene for some great snoozing with this unique liposomal blend of CBD capsules. Made with a relaxing mix of melatonin, GABA, passion flower, and chamomile, our Liposomal CBD+ Good Night are easy to digest.
• Gum ($11.99): The ultimate daytime focus hack, Calm + Focused CBD Gum harnesses the power of CBD along with other functional ingredients (B6, L-theanine, and L-tyrosine) for big flavor and even bigger productivity.
As part of Medterra's commitment to CBD education, the brand has created a series of CBDo's and CBDont's videos. The 360 activation includes customized retail displays for each distribution channel, digital activations and promotional materials to support this initiative. In developing these videos, Medterra set out to create a positive experience for any new CBD experience with a series of three 30 second videos:
• CBDo's & Dont's for the Entrepreneur in the Garage (ingredients): do choose CBD products made from certified hemp grown in the U.S.
• CBDo's & Dont's for Cafe Karen (how to use CBD): do take CBD if you want to relax, play golf, or be a chiller parent
• CBDo's & Dont's for Your Mother-in-Law (how to know if your CBD is legit): do buy a CBD that's developed by doctors and is rigorously tested
Grown and extracted in the USA, Medterra's CBD is fully compliant under the Kentucky Department of Agricultural Industrial Hemp Pilot Program and is certified by the U.S. Hemp Authority. Medterra's CBD products are third-party tested and contain a QR code for every COA (Certificate of Analysis) located on the website.
To learn more about the Medterra CBD On The Go Bundle, please visit https://mrcheckout.net/medterra-cbd-on-the-go-bundle/. For more information about Medterra, please www.medterracbd.com and follow @medterracbd on Instagram and Facebook.
Media Contact
Company Name: Medterra CBD
Contact Person: Rhiannon Richards
Email: Send Email
Phone: 949.241.9639
Country: United States
Website: https://mrcheckout.net/medterra-cbd-on-the-go-bundle/