Ronnisha Coleman Releases Her Latest Children's Book, 'Black History – Our Mark On Healthcare'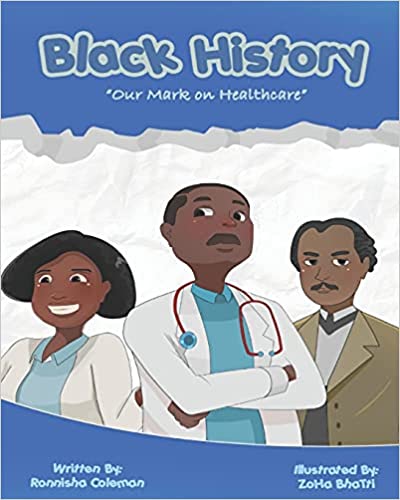 It is indeed a great and challenging time to be black and proud. Ronnisha Coleman, a mother of 4 sons, captures that feeling in her latest children's book, "Black History – Our Mark On Healthcare". This book features 16 significant African-American healthcare figures who contributed majorly towards the medical advancement. Their contributions are relevant and are still used today in the medical field.
This children's book is bright, colorful and beautifully illustrated to narrate these stories of inspiration in all their glory. The book also has a questionnaire page which will encourage kids to think critically as well as allow parents a peek inside the minds of their little ones.
Suitable for 6-year-olds and above, "Black History – Our Mark On Healthcare" tells the story of the ways black people have made the world a better place. It's a book on the proud history of the black people and their contribution towards society. Each and every story aims to empower young children and motivates them to ask questions. The stories will make these kids feel proud about being black, and the knowledge will drive them to become great someday just like their ancestors.
"I am proud to be black. We have contributed greatly to human civilization especially when it comes to healthcare and medicine. We have made some major breakthroughs that are helping people heal today. This book is my way of educating and empowering the children who will be our future", said the author Ronnisha Coleman.
Ronnisha Coleman was compelled to write this book because she wanted her sons to know the proud history of the black people. The legacy of the African-American race extends far beyond one geographical location, one month out of the year and transcends time before and beyond slavery. The objective for writing this book is to help parents educate their children and enlighten them about the inspiring Black history. Through her recent book and also in the future, she wants to inculcate the proud Black history and heritage into the upbringing of the next generation.
Black History: "Our Mark on Healthcare" can be purchased on Amazon in different formats such as paperback and ebook.
Media Contact
Company Name: Sirius Publications, LLC USA
Contact Person: Ronnisha Coleman
Email: Send Email
Country: United States
Website: https://www.amazon.com/dp/B095GFY7L5/