Jiwei Autumn Team Interesting And Meaningful Building Activities
Yantai Jiwei mainly produces hydraulic breakers, excavator grapple, quick hitch, excavator ripper, excavator buckets, we rank among the best in industry. In order to regularly enhance the company's team cohesion and speed up the integration of new and old employees, Yantai Jiwei regularly organizes autumn team building activities.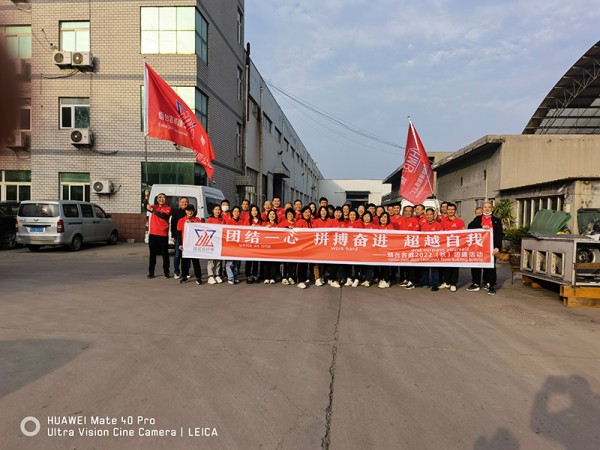 The first game is The Da Vinci Code. Thirty cards, each of which represents a number. The cards may be English letters or patterns. Everyone needs to think carefully and collect the 30 cards one by one within the specified time. The first time , we are not familiar with cards, and we didn't find an effective method. Only 8 cards were found ; the second time, 15 cards were found; the third time, 21 cards were found;this process Gained a lot of insights.
● Understand the norms and methods of each work
Before entering the working state, it is necessary to understand and be familiar with the norms, which is the basis for doing a good job.
● Communication
Faced with a task, everyone will have their own ideas, but if they go their separate ways and lack communication, they will not be able to understand and support their actions. Think more from the perspective of the other side, communicate your ideas with your teammates, share information, and give full play to the collective intelligence.
● Clear division of labor and perform their own duties
A team needs both all-round talents and specialized talents, so that problems can be solved by different talents.
● Teamwork
The victory of a team depends on the cooperation and joint efforts of every member of the team to complete. The teamwork effect of the team will stimulate individual potential, and the improvement of individual strength and the improvement of the overall strength of the team are inseparable.
The second activity is the curling game, whichever group has more curlers in the scoring area wins.
● There must be teamwork spirit, offensive and defensive, the interests of the team are paramount, and victory and honor belong to everyone in the entire team
● strike or offense is the best defense. People must attack opponent and protect teammates.
● Obey the leader's arrangement and obey all actions.
This team building activity made the company's employees more harmonious, more mutual understanding, based on the interests of the team, and learned to communicate. This autumn team building activity was successfully completed.
If someone need hydraulic breaker, excavator grapple, excavator ripper, quick hitch, excavator buckets, hydraulic plate compactor, please contact whatapp: +8613255531097
original source: https://www.hmbhydraulicbreaker.com/news/jiwei-autumn-team-building-activities/
Media Contact
Company Name: Yantai Jiwei Construction Machinery Equipment Co., Ltd.
Email: Send Email
Phone: 86-535-6536726
Country: China
Website: https://www.hmbhydraulicbreaker.com/