Gaimin's Gamification in the context of smart cities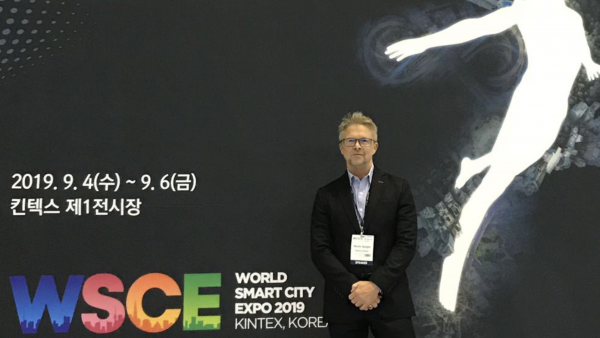 Martin Speight, CEO of Gaimin, alongside leading technology experts, were invited to speak at the World Smart City Expo 2019 from 4th-6th of September 2019 at Kintex, South Korea on how blockchain plays a part in Future Cities and how gamification software like Gaimin can enhance user experience in smart cities.
World Smart City Expo is the largest Smart City related exhibition in Asia hosted by Republic of Korea's Ministry of Science and ICT, Ministry of Land, Infrastructure and Transport, LH, K Water and Kintex.
Anndy Lian, Author of Blockchain Revolution 2030 and an Advisor for intergovernmental organisation is the moderator of the session who started by sharing how smart cities are redefined with the injection of new technology: "When I first heard about Smart cities from United Nations more than a decade ago, I thought we would have never made it so far. Right now, with the inputs from new technologies such as blockchain, it makes a lot more sense. Country leaders that I am giving advise too are also seeing it from a different perspective right now. They are all willing to look beyond their comfort zone using new technologies, and when we talked about smart cities, most people spoke about energy, sustainability, infrastructure – How about playing smarter and using games as part of the whole adoption structure?"
Martin gave his new insights on how gamification and blockchain can create better adoption after the smart cities are built: "Gaimin.io is structured to do this. Within smart cities, there are smart homes, and in the homes, you can see a lot of devices connecting. Gaimin's software can use the data, bridge the connectivity, perhaps using games to allow users of smart cities to earn smart tokens to pay off some of their bills. We foresee that smart city users need time to adapt to the new environment and get used to the new technology, Gaimin incentive structure and its "fun" nature will entice more people to adopt faster and give them a better experience."
"Ea3w.com is the leading Chinese media company for online procurement service and consumer electronics buying guide; they provided their her opinions on smart electronics. We have been looking forward to seeing how smart electronics can show off their full potential in smart cities of the future. At the same time, I also agree with Anndy that smart cities need more attenton and additional funds. STO exchanges like SingDax and Coinbase will help in some extent to build the smart cities faster." – Jenny Zheng, Partner of Ea3w.com (Formerly owned by Columbia Broadcasting System – CBS) mentioned during her speech.
The expo has more than 21,000 attendees from 200 cities in 60 countries worldwide; some attendees include Minister of Korea, esteem foreign VIPs like government officials Taiwan, Europe, America, and South Africa amongst others.
The trip to Korea is part of Gaimin's plan to focus on the Asia market and meeting the community. Gaimin's platform is based on AI-driven software that aggregates a gamer's processing power, when not being used and therefore without affecting their gaming performance, to the Gaimin monetization network. The technology can be applied to many different industries such as smarty citites, loyalty programs and more. This trip also coincides with their first IEO in Korea with Borabit (www.borabit.com) where all 2,000,000 tokens were sold within 15 minutes of launch.
For more information on Gaimin, please visit www.gaimin.io
Media Contact
Company Name: Blockcast.cc
Contact Person: Joann Park
Email: Send Email
Phone: +65 98832707
Country: Singapore
Website: https://www.blockcast.cc