Strong colours, ruffles, flower motifs and many others for Spring Summer 2020 – L. Catherine London during New York Fashion Week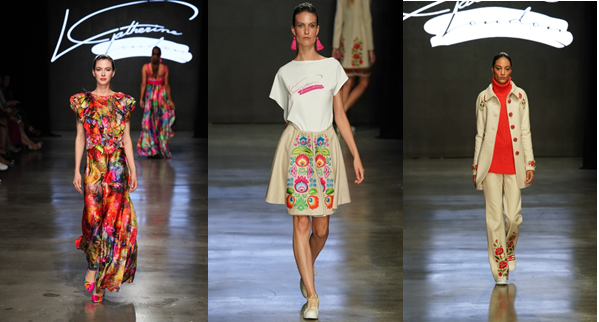 Last Saturday night's balmy New York weather was matched by the equally hot florals showcased by New York Fashion Week Show's closing designer, L. Catherine London. Just south of Hudson Yards L. Catherine London's 2020 Spring/Summer collection turned up the heat with the bright reds, pinks and oranges splashed throughout her flower motifs apparent on almost every piece. It marks a drastic change from L. Catherine London's previous NYFW collection which was entirely monochrome, in tribute to and collaboration with supporting women with cancer.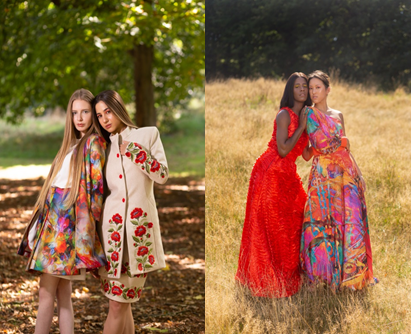 In contrast the explosion of warm hues and summer brights celebrates 'joyfulness and fulfilment', in line with the heart of the brand's values: celebrating every single minute of life. L. Catherine London draws on her deep cultural heritage evidenced in her collection of wool coats and skirts with traditional Polish embroidery. The collection then developed into a series of long silk dresses awash with a multitude of colour, layered ruffles and all-over vibrancy.
Her highly tailored pieces are feminine and sophisticated, the physical embodiment of the powerful and confident woman L. Catherine designs for. This was also reflected in her choice of models, which included Ukranian TV and Radio presenter Anna Butkevich; American professional wrestler Danielle Moinet; and Ambassador of the brand British-Indian Bollywood actress Amanda Rosario – all of whom are known for their confident style and support of women's rights worldwide.
Additional details can be found online at http://www.zimbio.com/pictures/CjfComsNLY4/New+York+Fashion+Week+Nolcha+Shows+Spring/browse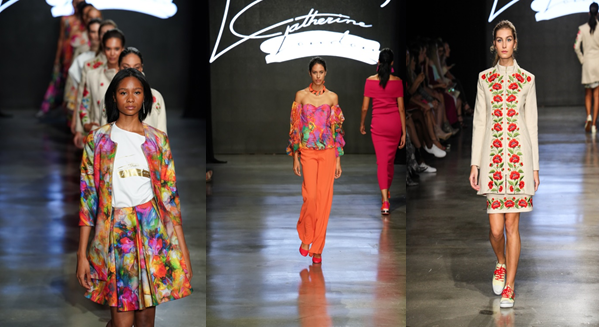 BACKGROUND
L.Catherine London founded by fashion designer and journalist Catherine Lecka, who graduated from the University of Warsaw in a field of Journalism and obtain second Master's degree from International Fashion Marketing from International Institute of Fashion Polimoda in Florence, Italy. Lecka continued her education in design and styling at Central Saint Martins College of Art in London.
Before launching her own label in Italy she worked in the Fashion House of Emilio Pucci in Florence and also as a TV fashion journalist for various stations based in Europe, covering the industry and events taking place in Florence, Milan, London, Berlin and Los Angeles.
After Catherine moved to London she began working for luxury fashion houses such as Roberto Cavalli, Balenciaga and Burberry. She currently works for Louis Vuitton alongside her own label.
Catherine was awarded the Pearl of Wisdom by the Flower of Femininity, a non-for-profit organization supporting cervical cancer research and awareness. She regularly presents collections during London Fashion Week, New York Fashion Week and Paris Fashion Week.
Media Contact
Company Name: L. Catherine London
Contact Person: Kate
Email: Send Email
Phone: 0044 7415324944
Address:207 Regent Street
City: W13BHH London
Country: United Kingdom
Website: http://lcatherine.com/