Honoroll Productions Schedules First Show Since Pandemic
With life coming back to normal after the emergence of the COVID-19 pandemic, Honoroll Productions has announced its first show since the COVID-19 pandemic on July 23, 2021 at Biggs Bar in Sioux Falls, SD. The show is expected to be a jolly occasion with several young artists from the entertainment company primed to make appearances.
Considering that the ongoing pandemic has been very harsh on everyone's mental health, the Honoroll show has been met with much embrace by hip hop lovers throughout the Midwest. The emergence of vaccines for the ugly Covid-19 is ushering the world out once more, and like Honoroll Productions, more artists and entertainment companies are expected to hold more shows.
The venue for the concert is Biggs Bar in Sioux Falls, SD. The show is going to feature the new talents like HTX and his "Iccyboi's" as well as YNKam, Mel, Beezey, A100 Lil Joe, and two fan-voted openers. With 100's and 1000's plays accumulated between the artists mentioned, the show is expected to be a blast for rap and hip-hop lovers in South Dakota and the Midwest at large.
The doors open at 8:30, with tickets costing $20, $30 at the door the day of the show. Follow the link for booking a ticket now: https://www.eventbrite.com/e/icyboi-ice-cold-summer-tickets-155549704353. The Honorall Productions show presents the perfect opportunity to catch up latest musical trends and artists, as well as an opportunity to have fun, with limited restrictions.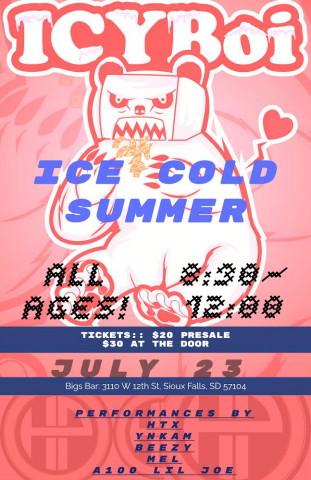 Founded by Grady Corbett and T.H.E. Honoroll (3NAM3S and Míla Rose), "Honoroll Productions" is an entertainment company focused on throwing multiple types of events across the United States. From parties up north in MN to genre-spanning shows in AZ; and everything in between.
Media Contact
Company Name: Honoroll Productions
Contact Person: Grady Corbett
Email: Send Email
City: Phoenix
State: Arizona
Country: United States
Website: http://www.honorollproductions.com/