Sam Sivarajan's 2nd Book, UPHILL, Marries Behavioral Science With Stoic Philosophy to Help Readers Tackle Modern Life's Challenges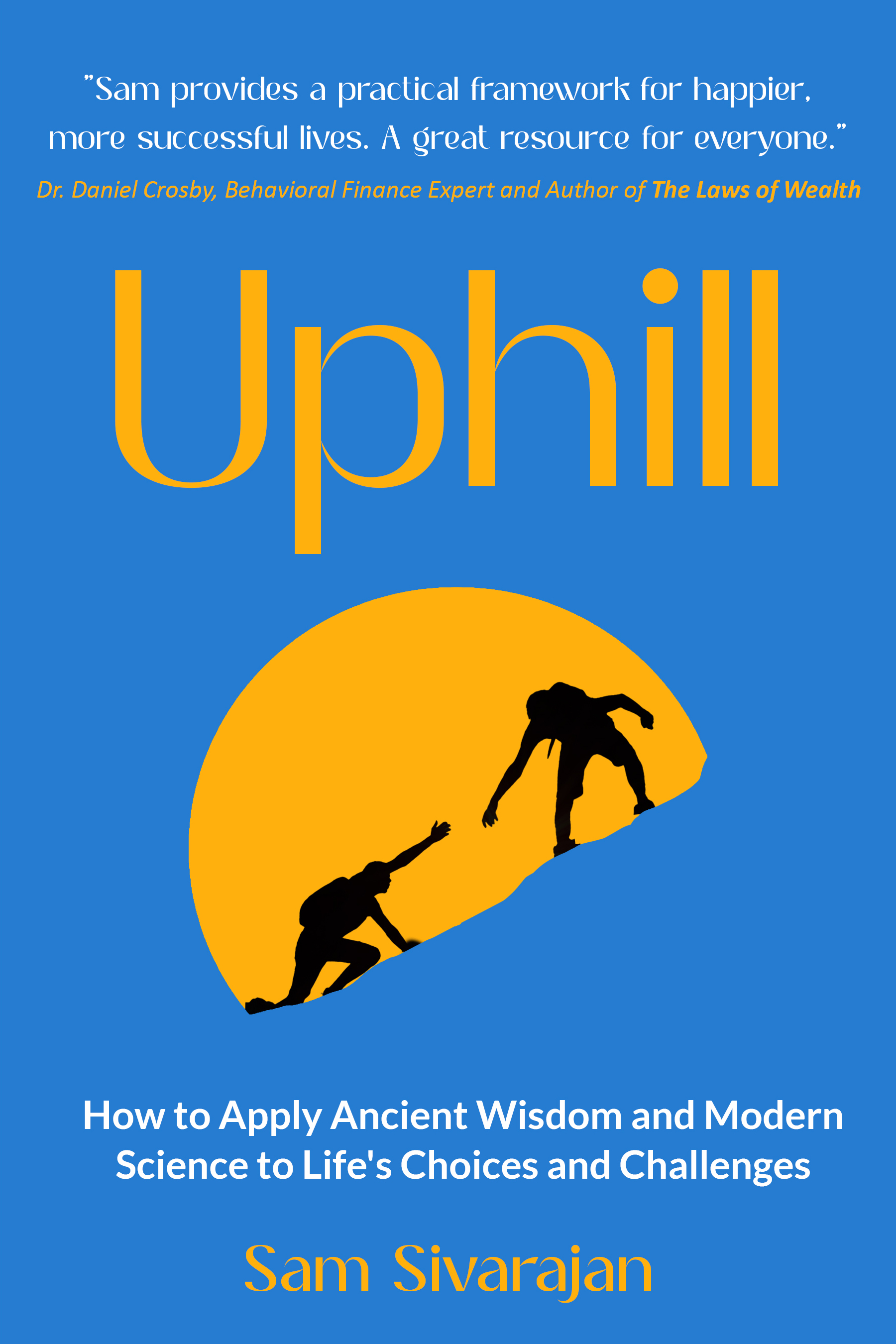 'Making Your Money Work' author Sam Sivarajan is back with another insightful read – Uphill: How to Apply Ancient Wisdom and Modern Science to Life's Choices and Challenges.
Life is full of uncertainty. We make difficult choices in the face of uncertain outcomes and get overwhelmed. We might even give up when faced with obstacles. If only we understood the principles of Stoic philosophy and how they fit perfectly to tackle modern life's challenges, we could take on every problem head-on and emerge more contented. That's exactly what Uphill, Sam Sivarajan's latest thought-provoking read, provides us.
"Life happens — to all of us. By learning to see more objectively, act more mindfully, and accept events outside our control more calmly, we can lead happier, more successful lives. In this engaging story, Sam knits ancient stoic philosophy together with modern behavioral science to show how we can make better decisions when faced with life's choices and challenges. A great resource for everyone." Said Dr. Daniel Crosby, Behavioral Finance Expert, and Author of The Laws of Wealth.
Uphill: How to Apply Ancient Wisdom and Modern Science to Life's Choices and Challenges is a relatable non-fiction book that narrates the story of Devin. After being unexpectedly fired by his company, Devin decides to go on to the biggest bucket list adventure of his life – climbing Mount Kilimanjaro. Little did he know this decision would change the course of his life and how he perceived everything, including the challenges he once considered impossible to overcome.
During his adventure, the story's protagonist, Devin, discovers the golden nuggets to living a life based on Stoic principles from his trekking guide Thomas. And from his mentor Katie he learns how modern behavioral science confirms these principles and relates them to current times. As he discovers how this philosophy works as a pragmatic approach to present-day problems, to all kinds of fears, stresses, pains, and uncertainties, he finds peace and strength to face the future.
"Uphill is an astonishing and enlightening book that invites you to join the exciting adventures of Devin on his personal journey to find a new purpose. Sam manages to translate valuable ancient philosophical wisdom into science-based tools that help us face the challenges of our lives in this day and age. The views of the great thinkers were never so easy and enjoyable to understand and apply!" Said Alexander Jurack, Founder & CEO, Korntex GmbH.
The engaging flow of the book and the compelling story of Devin provokes readers to explore the evergreen wisdom stemming from Stoicism and equips them with practical tools from modern behavioral science to not just survive but thrive in all aspects of their lives.
Uphill is an essential read for anyone who wants to get the most out of life and avoid being overwhelmed by the challenges it throws their way. To know more about the book or to order it online, visit the author's website here.
About The Author
Sam Sivarajan is an author, seasoned financial executive, and behavioral scientist with over 25 years of international experience in the finance sector. He debuted as a book author with 'Making Your Money Work' and has had his other works appear in several academic and mainstream publications.
Away from his desk, Sam likes adventure and loves tackling new challenges such as summiting Kilimanjaro and the Gran Paradiso in the Italian Alps, Mt. Olympus in Greece, trekking the Himalayas and the Andes, cycling 1400 km from London to Monaco, and setting a personal best at the Boston Marathon.
Media Contact
Contact Person: Sam Sivarajan
Email: Send Email
City: Toronto
State: Ontario
Country: Canada
Website: www.samsivarajan.com