IRM verifies interoperability between AI models and medical information systems
IRM Co., Ltd. (CEO: Samuel Choi) passed the interoperability tests on 52 profiles/actors, including AIR (AI Results), in the 2022 IHE EU Connectathon held in Montreux, Switzerland from September 12 to 16.
IHE, a non-profit international organization that develops and verifies standards to improve the information exchange feature of healthcare IT systems, holds an annual event called Connectathon to test and verify interoperability between solutions of the participating companies. The results of these tests conducted in the IHE Connectathon are used as a global measure for compliance with medical information standards for healthcare IT system providers.
In particular, this was the first offline event held in the last three years due to COVID-19. For the first time in history, IHE Europe and IHE USA hosted the event simultaneously on both continents to provide a unique opportunity for healthcare IT companies and medical equipment providers from around the world to test the interoperability of their products based on international standards.
IRM has been participating in this event every year since 2014, and it was the only company that passed the rendering test on the AIR (AI Results) Profile, a new profile introduced this year. IRM achieved this by successfully implementing integrations between AI and medical imaging information systems such as PACS and enterprise imaging solutions according to international standards.
The AIR Profile is a standard for exchanging diagnostic information or image annotation information between hospital systems and medical AI systems when training numerous medical AI models or using the AI models as diagnostic aids. Until now, results of AI analysis and reading were simply delivered in image format. The AIR Profile allows the results to be delivered and displayed in structured and reusable formats.
Lynn Felhofer, a Technical Project Manager of IHE, expressed appreciation to IRM as they recognized that IRM's healthcare solution, which implemented the image display feature that supports parsing, interpretation, and rendering through AI, greatly contributed to the verification and improvement of the IHE Radiology standards in this Connectathon where the AIR Profile was tested for the first time.
IRM also passed the verification tests on HL7 FHIR-based profiles, including MHD (Mobile access to Health Documents), PIXm/PDQm (Patient Identifier Cross-reference for Mobile/Patient Demographics Query for Mobile), and QEDm (Query for Existing Data for Mobile Profile). The company plans to apply these next-generation medical information exchange technologies to upgrade its healthcare solution, IRM EDP (Enterprise Data Platform).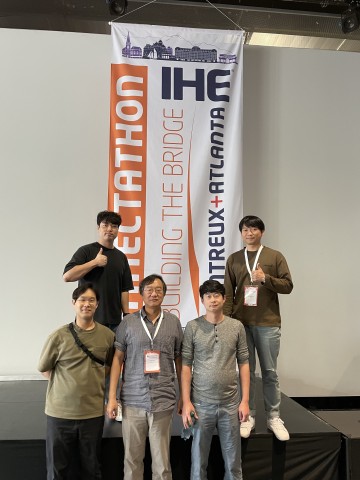 [Picture: CEO of IRM, Samuel Choi and standard developers]
Since its foundation, IRM has continued to develop interoperability technologies that comply with various international medical information standards such as DICOM, IHE, and HL7 FHIR. The company has been providing IHE-compliant cloud-based medical information exchange systems and medical data integration solutions since 2017.
Samuel Choi, CEO of IRM, who has 30 years of experience in medical image information, said, "We're now moving to the era of the Enterprise Healthcare Platform, which integrates various medical information in hospitals into standardized interfaces for patient-centered medical services. This requires compliance with international standards such as IHE, DICOM, and HL7 FHIR." He also emphasized that IRM can contribute to the advancement of the medical IT environment with its healthcare IT solutions that were developed based on international standards.
IRM will participate in the 108th Radiological Society of North America (RSNA) annual meeting held in Chicago from November 27 to 30 this year. In the RSNA exhibition, IRM (Booth: #6652, North Hall Level 3) will introduce enterprise imaging platform and service as well as clinical research platform that integrate medical data according to international healthcare standards.
Media Contact
Company Name: IRM INC
Contact Person: Searn Park
Email: Send Email
Country: South Korea
Website: https://irm.kr